Eric's Movie Party!
Mar 07
March Netflix Recommendations!
Documentary
The Imposter is a surprisingly suspenseful documentary with a deadly twist!  This film depicts how a French con man pulled off one of the most notorious impersonations in history, and somehow lived to tell about it.  A must see for all fans of well-made documentaries and mind-exploding stories. 
Television: Comedy
Bob's Burgers is  the cartoon comedy brain-child of Loren Bouchard (Dr. Katz, Home Movies).  Featuring voices from H. John Benjamin, Dan Mintz, Eugene Mirman, and Kristen Schaal, this show is a cavalcade of quirky characters and brilliant writing that true comedy fans don't want to miss the boat on… and it's not too late!  Bob's Burgers is currently in it's 3rd season, and season 1 is on Netflix Streaming for your viewing pleasure!
Music
Throw Down Your Heart follows banjo extraordinaire Bela Fleck on his journey to the birthplace of the banjo, Africa.  World music fans will drool over the plethora of jam footage, as Fleck attempts to find a place for the banjo in traditional African music. 
Indie
My personal favorite Indie flick of 2012, Safety Not Guaranteed, is a brief yet dense and optimistic tale of adventure, drama, and comedy.  Perhaps my favorite performance by both Mark Duplass and Aubrey Plaza in a film, and a must-see for literally anyone who enjoys a uplifting cinematic experiences. 
Stay tuned for more recommendations and reviews in the future. 
EK

Dec 26
This Is 40 (2012)
This is 40 is Judd Apatow's fourth directed film (after The 40 Year Old Virgin, Knocked Up, and Funny People) and is the "sort-of sequel" to Knocked Up.  Well, actually, it's more of a spin off that takes place years later since the main characters of Knocked Up are only just mentioned in the film and now it is their supporting characters Pete and Debbie (Paul Rudd, Leslie Mann) who are the stars.  The film follows the Los Angeles married couple as they approach their fortieth birthdays and provides a hilarious and, at times, brutally honest depiction of the personal and marital tension that ultimately leads to Pete's cupcake addiction and hiding in the bathroom to play Words With Friends and escape from his family, and Debbie smoking and threatening a young boy.  Apatow also wrote and co-produced the film and his two children Maude and Iris play the kids of Pete and Debbie.  This Is 40 was released on December 21st. 
This is a smart comedy in that it will be seen and hopefully liked by not only the twenty-something comedy nerd demographic, but also by their parents.  Now look, I am still years away from experiencing the big 4-0, but judging by the hilariously awkward situations the two leads get themselves into and the continuous family drama this is a realistic portrayal of what might happen when a married couple with two kids turn forty and this is clearly a somewhat personal film for Apatow.  There is one scene where Rudd asks Mann's character to look at his anus because he is a fraid he has a "worm"… it is hilarious!  But along with the plethora of funny dished out in This is 40, there is also a rather large serving of drama on the side.  Besides simultaneously going through a midlife crises, the couple must deal with their uninvolved fathers, hormonal teenage daughter, and Pete's failing record label, among other problems. 
This is 40 also has a great cast.  Rudd is a convincing protagonist.  You feel worse for the guy with each cupcake he sneaks into his mouth when no one is looking.  And he fits the stuck-in-his-own-generation record label owner well.  The Rudd-Mann dynamic is quite entertaining as well.  But aside from the two leads the film also features Jason Segel as Debbie's personal trainer, Charlyne Yi as her pilled-out employee, John Lithgow as her father, and Albert Brooks as Pete's father, to name a few. 
What this film lacks is a stronger plot.  It is literally just about two people turning forty, which is not a bad premise for a comedy, but it doesn't necessarily warrent a 134 minute running time. 
Overall This Is 40 is worth a watch… A funny and all-around entertaining production!
EMP Rating: 30/40
EK
Nov 30
Wreck-It Ralph (2012)
From Walt Disney Animation Studios comes an animated comedy that's fun for the whole family!  Wreck-It Ralph takes place in an arcade game universe where video game characters roam free amongst Game Central Station after-hours.  When Wreck-It Ralph (John C. Reilly) from the game Fix-It Felix, Jr. gets fed up with being the bad guy, he "goes Turbo" and jumps games in order to try and earn a medal for himself, however he clumsily releases a Cy-Bug from Hero's Duty which threatens the entire arcade.  The film hit theaters in early November and also stars Sarah Silverman, Jack McBrayer, and Jane Lynch, and was directed by Rich Moore of The Simpsons and Futurama fame. 
Wreck-It Ralph provides a unique common-ground between a fun kids movie and a witty comedy riddled with one-liners and references for the older folks.  The film has an ultimately positive message and is just simply a delightful ride from start to finish, providing plenty of hilarious moments, suspense, and video game references that are sure to tickle the chuckle-bone of any nerd who sees it.  For example, in the beginning of the film Ralph is at a support group for video game villains with such bad guys as Bowser and Doctor Eggman… it's hilarious!  And on top of all this, the animation is spectacular and there are a boat-load of great voice over actors!
Reilly is perfect for the lead, but Silverman steals the show as the loveable hoodlum Vanellope Von Schweetz who is a "glitch" but swears she just has "pixelitis."  And as Ralph puts it: "Who doesn't love a brat with dirty hair?"  And in addition to McBrayer, who plays the video game protagonist Fix-It Felix, and Lynch, who plays the bad-ass Sergeant Calhoun from Hero's Duty, there are some other great voices by Alan Tudyk, Mindy Kaling, Joe Lo Truglio, Adam Carolla, and many more!
Go see this movie.  It's enjoyable for everyone and it is truly funny.  Also, the Paperman animated short in the beginning is pretty enjoyable as well!
EMP Rating: 8/10
EK
Nov 14
Argo (2012)
Ben Affleck returns to the directors chair for his third directed film Argo, following Gone Baby Gone (2007) and The Town (2010), only this time there are no Boston accents.  Argo, a thriller based on a 1980 covert operation in which former CIA agent Tony Mendez attempts to rescue six endangered Americans from Iran via Hollywood, stars Affleck, Bryan Cranston, Alan Arkin, and John Goodman.  The film was co-produced by George Clooney and Grant Heslov and was released in October of this year. 
Affleck has now officially established himself as a solid director in my mind.  The big question was whether or not he could make a film that steps outside of the familiar Boston setting, and he nailed it.  With a story this strong, the suspense is already there.  It begins with a rather fast-paced set up in the very beginning of the film.  But it is the true depiction of the time period, impressive film-making technique, and strong casting that makes this an even more impressive production. 
Cranston's performance is as expected, a not too unfamiliar character, though the performance is particularly impressive towards the end.  Arkin and Goodman add a little comic relief as they portray a film producer and make-up artist who help Mendez with his elaborate cover.  And Affleck is good, but I can think of others who would have filled the lead characters shoes better.  I mean, just because you directed it it doesn't mean that you have to star in it, Ben!
Argo's thrilling story makes for a great film, though the ending drags on a bit too long.  You know what's going to happen, and convenient setbacks to the protagonists mission get slightly annoying, though it finally leads to a satisfying finish. 
All in all this is a well-crafted and entertaining film with loads of suspense.  I recommend that you Argo see it for yourself. 
EMP Rating: 8/10
EK
Nov 07
Samsara (2011)
Director Ron Fricke and producer Mark Magidson, who collaborated on 1992's Baraka, bring their next documentary of a similar ilk, Samsara, to the big screen.  The film was in production for five years, showcasing footage and images from 25 different countries, sending the reader on a narration-less journey to explore the advancements and flaws in human civilization.  Without dialogue, written or spoken, the breathtaking and sometimes shocking images are paired with an equally as adventurous score composed by Michael Stearns, Lisa Gerrard, and Marcello De Francisci.  Samsara premiered at the Toronto International Film Festival in September of 2011 and can now be seen on a limited number of screens around the US. 
This is a film that you really have to be in the mood for and have a good idea of what you are getting into.  You may assume that a documentary without dialogue may be a a low-key, relaxing experience with little thinking involved, but this movie provides quite the opposite.  Samsara has a strong message no doubt, though it is not entirely clear.  The filmmakers have let the visually brilliant imagery and complex score lead the way as the viewer draws their own interpretation.  A truly intriguing movie-going experience and a great change of pace from today's cinema if you ask me. 
The footage, shot on 70mm film, is a collage of human civilization and some of the most fascinating parts of the world, starting with ancient religious monuments to vast foreign landscapes and progressing towards a fairly shocking view of today's society, displaying images of things like the inside of a gun manufacturing plant and natural disasters.  There are a lot of images you will see in Samsara that you definitely will not see anywhere else.  A time lapse technique is also used a lot in this film, and it is used very well.  Also the content is put together very well.  You can tell that a lot of time went into this production. 
Though Samsara went in a slightly different direction than I anticipated, it is a powerful production that makes you think about things that you normally wouldn't think about.  Maybe there is a hidden agenda, I wouldn't be surprised, but in my experience this movie has no real opinion of its own and its message is up to ones own interpretation.  This is one to see, if not just for the visually spectacular presentation. 
EMP Rating: 7/10
EK
Nov 01
The Comedy (2012)
Directed and co-written by Rick Alverson, The Comedy is a comedy-drama about a 35-year-old Brooklyn hipster named Swanson (Tim Heidecker) and his lack of concern for the wealth he will soon inherit from his fathers passing and his struggle with basic human interaction.  Also featured in the film: Heidecker's comedy partner Eric Wareheim, former LCD Soundsystem front-man James Murphy, and Gregg Turkington a.k.a. Neil Hamburger.  The film premeired at the 2012 Sundance film festival and is currently available on iTunes on demand.  Theatrical release is scheduled for November 9th. 
Despite the title and cast of comedic actors, The Comedy is a fairly dark drama littered with dry and whacky humor.  Heidecker, whose character is an extremely unlikable hipster, showcases fantastic deadpan skill while delivering an array of darkly humorous dialogue and tom foolery in a straight-faced way.  His buddies in the film are just like him: bearded alcoholics in their mid-thirties who spend their time drinking, biking, and harassing the innocent. 
The fault of this film is its plot, or lack there of.  Nothing really happens, there's no story, and definitely no pay off.  But that is not to say that this movie is not worth watching.  Its low-energy portrayal of a fascinating social clique is intriguing, you just spend the whole time expecting something else to happen. 
Though not necessarily a comedy, The Comedy has some hilarious, clearly very improvised scenes.  From blowing out prayer candles at church to harassing cab drivers, these are characters who clearly stopped maturing in high school.  But the story centered around Heidecker's character is pretty depressing, though his aforementioned attributes make him impossible to root for. 
I would think a fan of alternative comedy might find some enjoyment in this film, and perhaps I just didn't get it and The Comedy is actually a brilliant piece of art.  But either way be prepared for a dark film with little story. 
EMP Rating: 6/10
EK
Oct 31
Halloween (1978)
EMP Note: To all Eric's Movie Party readers, thank you for your continued support and movie nerd-dom.  We couldn't have done it without ya!  For our 100th review, and in lieu of it being the spookiest day of the year <werewolf howling> I have decided to revisit an all-time favorite of mine, the original Halloween!  Enjoy!
Halloween is an independent slasher/horror film directed, produced, and scored by John Carpenter.  Co-written by Debra Hill, the film is set in the fictitious town of Haddonfield, IL on Halloween, 1978, exactly fifteen years after local legend Michael Myers stabbed his sister to death.  When Myers escapes from the loony bin, the whole town of Haddonfield is in danger, but especially teenager Laurie Strode (Jamie Lee Curtis) and her friends.  The film also stars Donald Pleasence as Dr. Sam Loomis, Myers' obsessive psychiatric doctor.  Since its 1978 release Halloween has spawned seven sequels and two remakes, and is said to be the first in a long line of slasher films, particularly in the 1980s.  It is one of the most profitable indie films of all time and has influenced countless movies in the slasher and horror genre. 
This is a true classic, the kind of movie that one can watch every year around Halloween and never get sick of.  Just like how I watch The Santa Claus staring Tim Allen every Christmas!  OK maybe I shouldn't have admitted that.  But Halloween still does and probably always will hold up which is simply due to genius film-making.  Carpenter's Hitchcock-inspired directing style makes what could have just been a forgettable gore-fest a story and cast-driven masterpiece.  The camera work is exceptional, redefining the way suspense is created in cinema via influential techniques such as the first person perspective of Myers murdering his sister in the beginning of the film.  And despite how gut-wrenchingly frightening this movie is there is hardly any gore, yet there is more suspense than in even the bloodiest of horror flicks. 
Halloween is also the breakout role for Jamie Lee Curtis whose performance as the good girl in a group of teenage friends is convincing and exceptional for a first role.  And Pleasence could not be more perfect for the role of Dr. Loomis.  Pretty much all of the performances are great considering the low budget.  You can tell that everyone involved was passionate about the film, which always results in a better production. 
One of the most notable elements of the film is its minimalistic score by Carpenter himself.  Not only does it perfectly match the films mood and elevate the suspense, its creepy 5/4 time theme has become an iconic piece of cinematic music. 
If you have never seen the original Halloween, you must have been living on another planet all of your life.  This is a must-see, not just because it's a classic and everyone says it is, but because it is an important part of cinematic history and a damn good horror flick!  In Halloween the scares just get scarier, and no scene is safe.  They just don't make 'em like they used to…
EMP Rating: 9/10
EK
Oct 26
Paranormal Activity 4 (2012)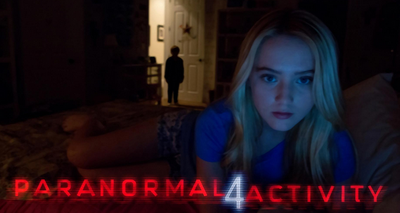 Ariel Schulman and Henry Joost return to the directors chair for the forth installment of the Paranormal Activity franchise: Paranormal Activity 4.  Written by Zack Estrin, the film picks up several years after Paranormal Activity 2 and focuses on a family of four in Nevada who take it upon themselves to babysit a creepy neighborhood kid named Robbie (Brady Allen) when his mom has an unexplained accident.  When spooky things begin to happen around the house after Robbie's appearance, Alex (Kathryn Newtton) and her whacky boyfriend Ben (Matt Shively) do a little investigating and set up cameras around the house.  Paranormal Activity 4 was released in theaters and IMAX on October 17th. 

It's inevitable that these movies will keep coming out simply because people keep going to see them.  And though I feel that the franchise has one good sequel left in it, Paranormal Activity 4 is definitely not it.  But say what you will about lame story lines, frustrating characters, and cheap scares, These movies are still great when seen in the right setting.  The acting never has to be good because it is found footage, and the found footage style does add to the spookiness when done right. 

I always find it interesting to see what the source of the footage is supposed to be in these films.  The first three tell you why the main character has a video camera in the first place, i.e. they are a wedding videographer or they just got a new camera.  But in Paranormal Activity 4 they don't even bother to explain why this teenage girl is waltzing around with a camera in the first place.  When Alex becomes suspicious she has her boyfriend set up all of the computers in her house to record video at all times after she finds out that he has been recording their iChat conversations.  So the footage comes from an unexplained handheld camera, iChat conversations, laptops laying around the house that for some reason are never turned off, and an Xbox Kinect with the green motion sensors on, which is actually pretty spooky at first, though the blatant product placement is beyond lame. 

The storyline in this one is probably the worst yet.  Part of this is due to the fact that we have seen it all before.  Nothing new or impressive is introduced and the ending is weak.  The characters seem too relaxed for the situation they are in and besides Alex and Ben the characters are too one-dimentional and unlikable.  You don't necessarily find yourself rooting for the family to survive.  I would really like to see one of these films with a more middle-class and relate-able family.  An old, creeky house setting rather than a generic new upper-class home might add some suspense and believability.

In summation, expect poor story telling and a bunch of stuff we've already seen in the first three.  Oh, and an Xbox Kinect!  Though this movie is scary at times and also pretty entertaining.  And hey, if you've already seen the first three you may as well see this one.  The overarching story between the four is actually kind of clever and sets up for plenty of sequels.  Not that great, but I'll keep seeing 'em. 

EMP Rating: 5/10
EK
Oct 22
Frankenweenie (2012)
Frankenweenie is a black and white 3D stop motion Frankenstein spoof directed by Tim Burton.  The film is a remake of Burton's 1984 short film with the same name about a young scientist named Victor Frankenstein who uses electricity to revive his dead dog Sparky.  The comedy-horror was released by Walt Disney Pictures on October 5th. 
Yes, it's another Tim Burton remake, but luckily it is a remake of one of his earlier works.  Original Burton ideas always make for a better Burton film, history has proven that.  And Frankenweenie's charming original story set in a quirky, demented world is refreshing for fans of the director's work.  This film is a mildly humorous parody with a dark side about a boy coping with the death of his beloved canine.  The message is sweet and the premise is simple: two key attributes of a good children's movie.  Though I don't know how well this film would go over with younger kids.  Quite frankly there are some scenes that would have terrified me as a child, but then again I always have been kind of a sissy. 
The stop motion animation is impressive and the black and white serves the mood and parody aspect well.  Although the 3D is completely unnecessary and black and white seems weird in IMAX. Frankenweenie also features some swell voice overs by Charlie Tahan, Catherine O'Hara, Martin Short, Winona Ryder, Tom Kenny, and more!  And the score by Danny Elfman is well-crafted and elevates the film's tone nicely. 
Though not one of Burton's best works, Frankenweenie delivers a fun little story with a heartfelt message, some laughs, and mild suspense. 
EMP Rating: 7/10
EK
Oct 17
V/H/S (2012)
V/H/S is an anthology horror film composed of six found footage stories, each with a different director.  The film premiered at the 2012 Sundance Film Festival in January and can now be found on demand on iTunes and in a limited number of theaters around the country.  Conceptually this is a clever anthology horror.  The found footage style is no doubt overused these days but it does seem to be most effective in the horror genre, adding a more realistic perspective when done right. 
The stories in V/H/S vary in quality, and two of them are just plain bad, but the VHS theme is actually pretty cool, despite a plethora of logical flaws.  There are plenty of moments in the film where I found myself wondering "why is this even being taped?" and "who would even put a series of recorded webcam video on a VHS tape in the 21st century?" And overall the film is dark, crude, and utterly bizarre in some cases, and the production as a whole overstays its welcome by a good 15 minutes (it is a two hour movie…).  However,  V/H/S provides plenty of bone-chilling scares and innovations to the found footage style with each of its six stories: 
"Tape 56" Directed by Adam Wingard
This is the main story, the one that sets up the other shorts and progresses between them.  It starts with a group of criminals whose leader proposes that they move on from molesting women and breaking into houses on camera and take on a higher paying gig which involves stealing a VHS tape from a spooky old house in the middle of nowhere. When the gang finds a dead man in a room full of VHS tapes and TV sets displaying white static they must sort through the tapes to find the right one, thus leading to the other stories. 
I have no problem with this setup, in fact it's pretty clever, and as this individual story progresses suspense builds nicely, though its plot is simple and predictable. 
"Amateur Night" Directed by David Bruckner
If you like watching bros getting savagely killed, then you will love this story!  And they aren't just bros, they are super-bros, the kind who do blow and chug brews while they spend all night trying to get women to come back to the hotel room they rented for that very purpose.  Too bad they picked up a blood-thirsty succubus without knowing it….
What is unique about this one is the footage is taken from a glasses-cam worn by one of the bros.  This is one of the better stories despite its lame finish. 
"Second Honeymoon" Directed by Ti West
A couples second honeymoon gets spooky after they use a fortune telling machine like the one in the movie Big… A suspenseful story with a bizarre and slightly confusing twist. 
"Tuesday the 17th" Directed by Glenn McQuaid
This is where the stories go from spooky and interesting to just plain dumb.  Four friends are led into the woods by their friend Wendy so that she can lure a mysterious killer who murdered her friends years ago.  Not only is this one sloppy and uninteresting, it seems to have been build around some cheesy effect as the killer is some kind of ridiculous supernatural figure that can only be seen as a staticy outline of a man on camera.  How convenient!
"The Sick Thing That Happened To Emily When She Was Younger" directed by Joe Swanberg
First of all, a horrible and annoying title, so I guess it fits this story perfectly.  This footage is taken from a video chat between a woman who thinks her apartment is haunted and her boyfriend who is "away" for some reason… If I understood any more of the plot beyond this point, I would extrapolate, but this story transforms into an amateurish piece of garbage very quickly.
"10/31/98" Directed by Radio Silence
It's a shame that this one is all the way at the end when the viewer has most likely already lost interest, I know I did, because this is probably the best of the six.  It's a fun, over-the-top haunted house/exorcism gone wrong story set on Halloween! 
As I said before, the concept of V/H/S is great, however I wouldn't say that any of the stories are much better than mediocre.  Though it has its moments and the film definitely delivers the scares one would assume to find in an anthology horror.  I look forward to the sequel: D/V/D.
EMP Rating: 6/10
EK